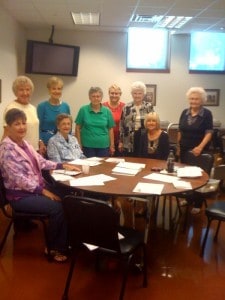 VOLUNTEER
Interested in volunteering at the Doss? We love our volunteers and can always use more! Our volunteers get a choice of working in Archives, Events, Facilities Maintenance, Visitor Services, and more! Flexible schedules and some awesome perks!
***Needed Volunteer Docents***
The Doss Center staff actively recruits volunteer docents with a passion for our western heritage.  Docents should have the ability to effectively communicate their enthusiasm and knowledge to visitors of a variety of ages and backgrounds.  Please contact Sherri Myers at 817-599-6168 or sherri.myers@dosscenter.org for more information.
EMPLOYMENT OPPORTUNITIES
The Doss Heritage and Culture Center offers part time and full time employment
At the DHCC our mission is to collect, preserve, and exhibit the history of Parker County and Texas through cultural and educational events that raise community awareness and pride in our western heritage.
The museum employs full-time, part-time and hourly professionals as well as offering internship opportunities. Employment opportunities are listed below.
Full-Time Positions
Event and Marketing Manager
Doss Heritage and Culture Center
Full Time
The Event and Marketing Manager will be responsible to manage all rentals: such as weddings, receptions, and business and like events. They will manage rental contracts and payments for those rentals, maintain a rental schedule calendar, and ensure a facility staff member is scheduled to work all events when the facility is used.
A working knowledge and familiarity of programming social media, budgets, and evaluation techniques are required as well as a good foundational knowledge of event planning and facility rentals. Exceptional organizational supervisory skills are needed as well as the ability to develop and maintain good relationships with the public, volunteers, and staff. This is a salaried, exempt position which may require occasional work beyond normal business hours and on weekends.
Full Job Description Here – Doss-Event and Marketing Manager
To apply please send a cover letter and resume to amanda.edwards@dosscenter.org – no phone calls please
Internships
There are no Intern Positions available at this time.