The DHCC was established in 2006 to collect, preserve and interpret the history of Parker County and Texas on land leased from Weatherford College (WC). In the past 10 years the DHCC has been in contact with several Parker County residents who have original log cabin structures on their properties that they want to preserve. The City of Weatherford also has two log cabin structures that they want to be preserved. In addition to preserving these structures the DHCC plans to use the park as a tool for hands on education.
Timeline of the Project
2014
The need for a home for these structures led the DHCC to acquire land behind the DHCC building from WC, in order to establish a Log Cabin Village. An agreement was signed between WC and the DHCC restructured the property lines of the DHCC to provide approximately 1.9 acres to the west of the DHCC building for a log cabin village.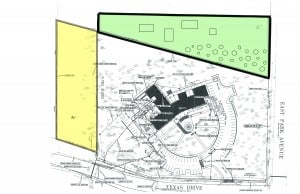 Land highlighted in Yellow was exchanged with the college for land highlighted in green to the west of the Doss. 
2015
The DHCC received additional H.O.T funds from the City of Weatherford to complete an engineering site plan and survey for the park. This was completed by Barnett-Herron Engineering Firm in Weatherford, Texas. The DHCC also received an endorsement from the City of Weatherford in the form of a resolution that agreed  to transfer title of the Holland Lake Cabins to the DHCC when the DHCC is ready to move them.
The DHCC hosted the Log Cabin Concert Series to raise funds and awareness about the project.
The DHCC began gathering bids and meeting with experts to determine the cost for moving, restoration, and preservation of the cabins.
Pioneer Cabin Park was selected as the name and branding for the project began.

2016
The DHCC launched a Capital Campaign to raise 2 million dollars to complete Pioneer Cabin Park. The museum received an initial donation of $160,000.00 to complete all the site-work necessary to prepare the land for the cabins.
In February, site-work began on the park and the DHCC hosted a ground breaking for the public.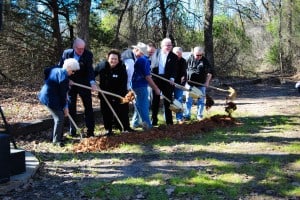 Breaking ground on Pioneer Cabin Park, February 25th, 2016. 
The DHCC is working with Weatherford College to get their students involved in documenting the site of one of the cabins. Giving them an opportunity to do field research.
The DHCC is still fundraising to meet their 2 million dollar goal with several different campaigns and grants. Naming opportunities are available. Please call the museum at (817)599-6168 for more information.
2017
Site work was completed for Pioneer Cabin Park by JRJ Inc.
The first cabin, the McDonald Cabin, was moved to the park on September 14th, 2017.