Doss Education & Programs
Preschool Storytime
Every Tuesday @ 10:30am, FREE
November 2020
We will be reading:
November 3rd – My Teacher for President
November 10th – Apple Picking Day!
November 17th – Leaf Man
November 24th – A Plump and Perky Turkey
Hands on History Homeschool Day
Check out Doss Digital for online content & updates!
The Second Wednesday & Thursday of every month we have Hands on History Homeschool Day for Homeschool families! Come and learn about local and Texas history through fun interactive activities and lessons right here in the museum!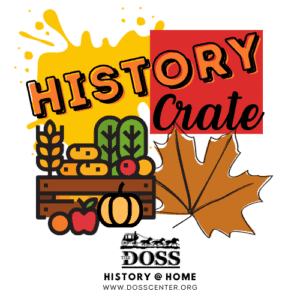 Our new Exciting Hands on History experience!
Come along on a journey through 4 different time periods of Texas History with an exciting take on our Hands on History learning and summer FUN!
Kit Pickup: S.T.E.A.M Labs
Tune in to our Facebook page for updates on STEAM Lab kit pickups! 
S.T.E.A.M ( Science, Technology, Engineering, Art, & Math) comes to life at the museum once a month with a self guided lab experiment. Families can work together to predict, explore, & observe the results.
History Alive
While we are under restrictions for COVID-19 we will be sharing our programs via Doss Digital 
History Alive is a hands on series that brings history and crafting together! Come create while learning about the past!
Museum Hours
Tues – Sat : 10am - 5pm
Thurs : 10am-8pm
Sun & Mon: Closed
Mailing Address
PO Box 215 
Weatherford, TX 76086 
Mission Statement
The mission of the James and Dorothy Doss Heritage and Culture Center is to collect, preserve, and interpret the history of Parker County through cultural and educational events that raise awareness and pride in our western heritage.