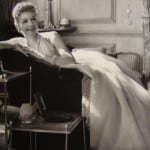 Mary Martin 
December 1, 1913-November 3, 1990
The Mary Martin and Larry Hagman Gallery chronicles the life and accomplishments of stage and screen actress Mary Martin, who was born and grew up here in Weatherford.  The exhibit explores her early childhood in Weatherford and her successes on Broadway and in film.  The exhibit also includes some items from her son, Larry Hagman, famous for his role as J.R. Ewing in the television series, Dallas.
Larry Hagman
September 21, 1931-November 23, 2012
 A film and television star, Larry Hagman is best known for his roles as J.R.Ewing in the show Dallas and as Major Anthony "Tony" Nelson in the show I Dream of Jeannie. Born in Fort Worth, Larry Hagman was the son of Broadway star Mary Martin and attorney Benjamin Jackson Hagman. He spent some of his high school years attending Weatherford High School and performed in the 1949 senior class production of "This Girl Business" as Gordon Spoor, a young chemist. He began doing regional theatre in the 1950s and appeared in the Broadway South Pacific with his mother in London.
Though his career in show business took off Larry Hagman never forgot the place where he got his start. He continued to support the Parker County community by donating his mothers archives to the Heritage Gallery at the Weatherford Public Library. When the Doss Heritage and Culture Center opened in 2006 Larry Hagman and his wife Maj were here to show their support. The Mary Martin – Larry Hagman Gallery at the Doss Heritage and Culture Center will continue to exhibit and preserve the legacy of these two great performers.
If you would life more information about Larry Hagman's charitable works and causes please visit his website:
http://www.larryhagman.com
[nggallery id=7]